About Flomech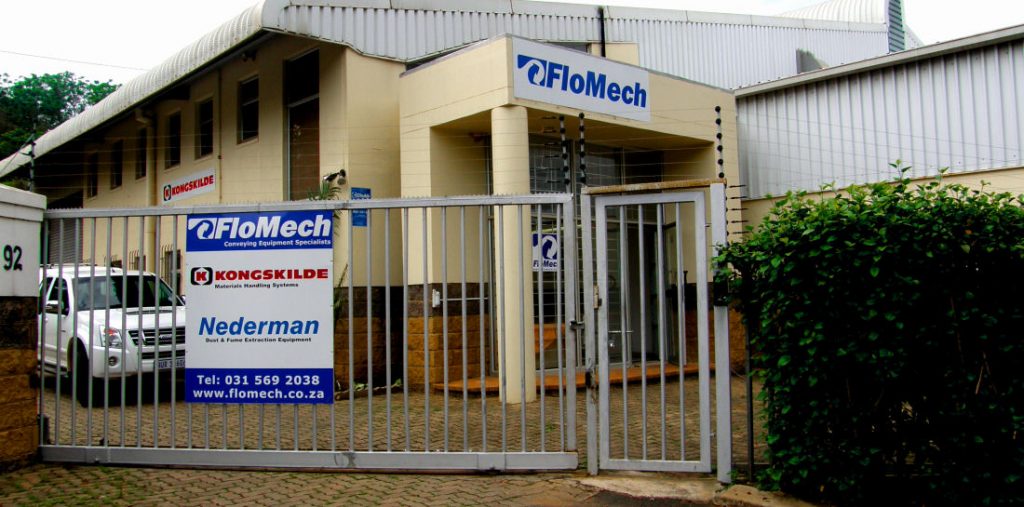 Established in 1996, FloMech is based in Durban, South Africa and is an official agent for Kongskilde Industrial Conveying and Grain Handling equipment as well as a local distributor of Nederman Dust and Fume Control equipment.
Other ranges of equipment handled are Roff Maize Milling equipment as well as Dragon and Brock Storage Silos.
Offering a unique range of modular "off the shelf" solutions we are able to provide systems to meet each client's specific needs.
Operational Details
FloMech offers direct equipment sales as well as Turnkey Projects and Systems Installations.
We are able to provide in house CAD system layout/ flow diagram drawings.
FloMech is a compliant B-BEE verified contributor.
FloMech is situated at 92 Columbine Place, Glen Anil, Durban.
Areas of Expertise
Pneumatic Conveying Systems
The design supply and installation of air transport systems for a wide range of products.
Plastic Granules / Pellets
Paper and Plastic Trim and Off Cuts
Cereals and Grains
Extruded Snack Foods
Match Splints and Boxes
Wood Chips and Sawdust
Plastic extruded & Blown Components.
Process Waste Handling
The design, supply and installation of systems to handle process waste generated in the plastic, paper and packaging industries.
Dust/Fume Control
The design supply and installation of a wide range of Nederman dust and fume control solutions.
Small Scale Maize Mills/ Animal Feed Plants
The design, supply and installation of small scale maize milling plants and on farm animal feed plants.
Bulk Storage Facilities
The design, supply and installation of bulk storage facilities, utilising fabricated steel storage silos.
Materials Bulk Handling Systems
The design, supply and installation of complete material handling systems in a wide range of industries.
Industries We Work In:
AGRICULTURE
PLASTIC
PAPER
PACKAGING
MILLING
FOOD & BEVERAGE
CHEMICAL
METAL FABRICATION.