Multicutter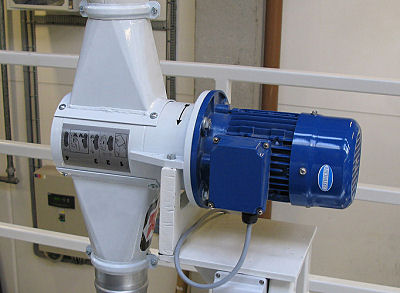 The Kongskilde Multicutter has been developed for continuous cutting of waste edge trim from machines for filmblowing, packaging-, paper production and slitters.

The Multicutter is mounted in the Kongskilde OK pipe system, conveying the waste away from the production machinery.
The Multicutter consists of a fixed and a rotating set of blades driven by a direct-coupled motor. The blades are made from sinter metal with great resistance to wear and an extended service life.

Adjustment and resharpening of the blade sets is possible and is the only form of maintenance.

Multicutter MC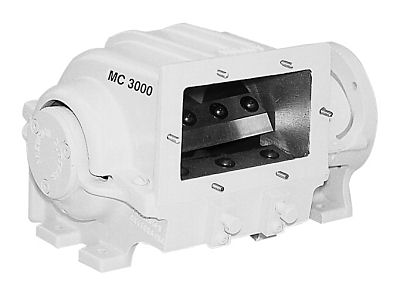 The Kongskilde Multicutter MC has been developed for continuous cutting of continuous trim. The Multicutter MC consist of a fixed and a rotating set of blades driven by a direct-coupled motor.

The angled rotating blades provide shockfree cutting and reduce the operating noise level. The shaftless cutting chamber and the fact that the end discs of the rotor serve as part of the cutting chamber prevents any change of wraps.

The rotor is mounted in "seal for life" precision ball bearings. The Multicutter MC is installed in a pipe system in connection with either paper and printing press machinery or post-processing machinery.

MultiDicer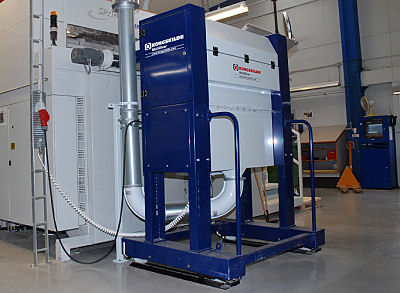 Paperboard skeleton frame shredder The Kongskilde MultiDicer cuts thick paperboard down into sizes below 75×75 mm. These dimensions can be conveyed in Kongskilde's normal conveying systems typically with a pipe diameter of 160 mm.

This means that paperboard skeletons from die cutters and paperboard waste in the packing industry can be removed from the production area in a simple, efficient and economical way.

The MultiDicer from Kongskilde is for paperboard frames with a width up to 1630 mm and as standard with a thickness of up to 800 g/m.

At material thicker than 800 g/m Kongskilde offer the customer to run a test. The machine is able to shred up to 12000 sheets per hour. This means that the capacity is large enough to treat the waste from even the fastest die cutters in the industry.